Princeton Students Impact Global Health
By
Aimee Bronfeld, Center for Health and Wellbeing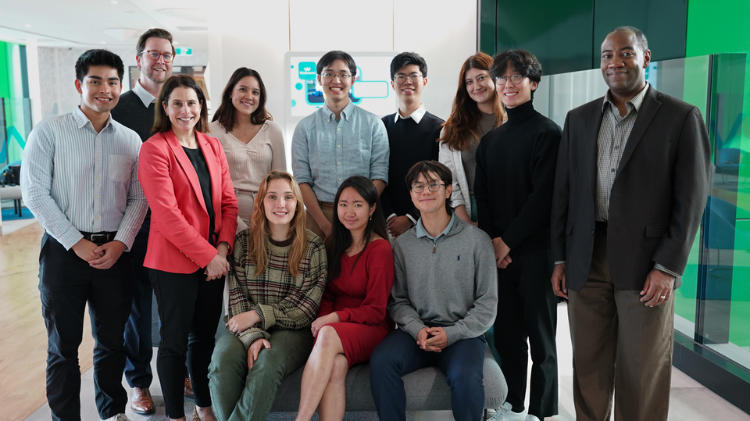 This summer, Princeton University students took on some of the world's most critical public health challenges – from fighting AIDS, tuberculosis, and malaria, to curbing antimicrobial resistance and understanding the drivers of climate change. Princeton's Center for Health and Wellbeing (CHW) sponsored 88 opportunities for students to pursue global health internships as well as senior thesis research and other health-focused endeavors.
The fully funded internships, spanning six continents and 20 cities, offered immersive experiences for undergraduate and graduate students interested in global health. Designed to enrich academic coursework, these projects enabled participants to engage in groundbreaking research while exploring new fields, cultures, and careers.
"In partnership with our host organizations, the Center for Health and Wellbeing brings students to the forefront of global health," said Gilbert Collins, director of global health programs and co-director of CHW. "The experiences add another dimension to their Princeton studies, allowing them to apply skills beyond the classroom and to impact real-world health issues."
Partnerships Promoting Innovation
In 2023, student interns supported 19 organizations in the developed and developing world, including universities, government agencies, health care facilities, and leading research institutions. Some students traveled as far as South Africa, the Philippines, or Australia, while others chose to remain in the United States, working in Washington, D.C., New York City, Trenton, or even on campus to collaborate with Princeton faculty.
Over the course of eight to 10 weeks, the students worked alongside scientists, clinicians, scholars, and policymakers to tackle issues through an interdisciplinary lens. They addressed determinants, consequences, and patterns of disease across societies; global vaccination disparities; malnutrition; diagnostic markers of infectious and chronic diseases; environmental health policy; and a myriad of other topics affecting population health.
Visiting Students at Work
During the month of July, a CHW staff team visited student interns at three host organizations: Telethon Kids Institute (TKI) in Perth, Australia, a research entity dedicated to the health and wellbeing of children; Oxford University Clinical Research Unit (OUCRU) in Hanoi, Vietnam, which is focused on the prevention, diagnosis, and treatment of infectious diseases; and University of Sunderland in Sunderland, England.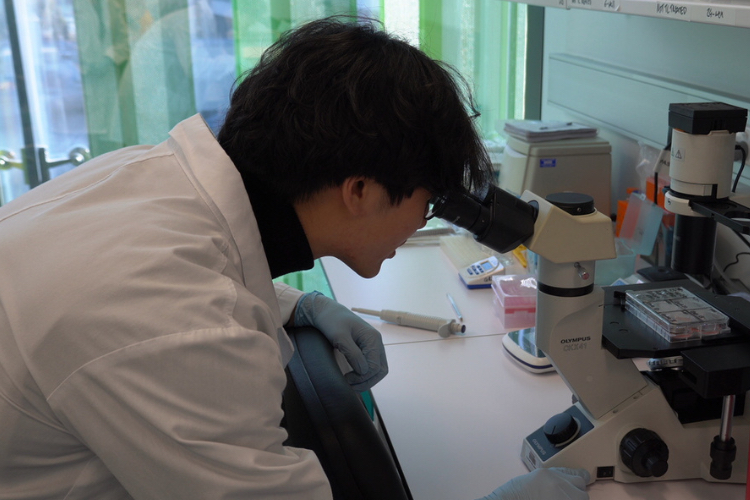 A cohort of nine Princeton students spent the summer at TKI. "The institution really spoke to me with its mission of helping aboriginal communities and children and promoting betterment in their lives," noted Samuel Lee '24, a Chemistry major pursuing a minor in Neuroscience. Among his core responsibilities, Lee contributed to the institution's efforts to end rheumatic heart disease (RHD). This included data analysis for its SToP (See, Treat, Prevent) trial aimed at controlling skin infections in remote Western Australia. "Rheumatic heart disease is a serious disease that affects the aboriginal population at a higher rate than the non-aboriginal population, and one of the main causes is skin infections," he explained. Accordingly, the SToP project is designed to prevent RHD by promoting healthy skin.
TKI interns also participated in research on early childhood development and mental health, the role of fathers in promoting the health and development of children, and the global distribution of malaria. Across the board, they analyzed large pools of data to identify trends, assess risk factors, and facilitate interventions.
For example, SPIA major Gia Musselwhite '25, who is minoring in Statistics and Machine Learning and Technology and Societies, tracked mosquito vectors in Africa. "I looked at the continent's vulnerable populations and mapped malaria transmission in a way that effectively informs policy decisions," she said, noting the opportunity to hone her modeling skills and, more broadly, to bridge her interests in public health and data science.
At OUCRU, Princeton students studied antimicrobial resistance (AMR) as it relates to the treatment of infectious diseases, such as malaria, tuberculosis, HIV, and dengue fever. This work included epidemiological studies on antibiotic use in Vietnamese health care settings, communities, and farms, as well as research evaluating the health and economic costs associated with AMR. The group also investigated Covid-19 vaccination rates and vaccine hesitancy, exploring why certain populations have been reluctant to receive the Covid-19 vaccine and how to address those barriers. Under the supervision of experienced epidemiologists and other scientists, interns contributed to projects aimed at improving global health outcomes.
Computer Science major Anaika Mehra '24, who is minoring in Entrepreneurship, emphasized the collaborative nature of her work at OUCRU. "Coming in, I thought the office would be more hierarchical," she noted. "But, to a large degree, the process was flexible and open-minded. I was given the freedom to explore the research, express my opinions and concerns, and come up with original ideas for antimicrobial stewardship interventions, which was very rewarding." Mehra was one of four undergraduate students to intern at OUCRU this summer.
The University of Sunderland hosted three Princeton students. Their work addressed non-clinical interventions designed to support health and wellbeing and reduce health inequalities, particularly within the veteran community. "I applied for this opportunity because I wanted to gain more exposure to global health," explained Neuroscience major Melvi Agolli '25. "In particular, I am fascinated by the idea of social prescribing, which means not only focusing on the medical aspects of health but considering unmet social needs." As part of their responsibilities, Agolli and the other interns engaged with community partners to deliver such programs and services to veterans.
Immeasurable Impact
Through these internships, students acquired deeper insights into the global health field while learning more about health equity, social determinants of health, and the value of evidence-based health policy. 
"The internship added a level of maturity to my academic experience and has expanded my perspective on global health," asserted Charles Yu '26. Prior to his summer with TKI, Yu associated global health with vaccines and lab work but now sees how coding, data analysis, and other skills also contribute to the field.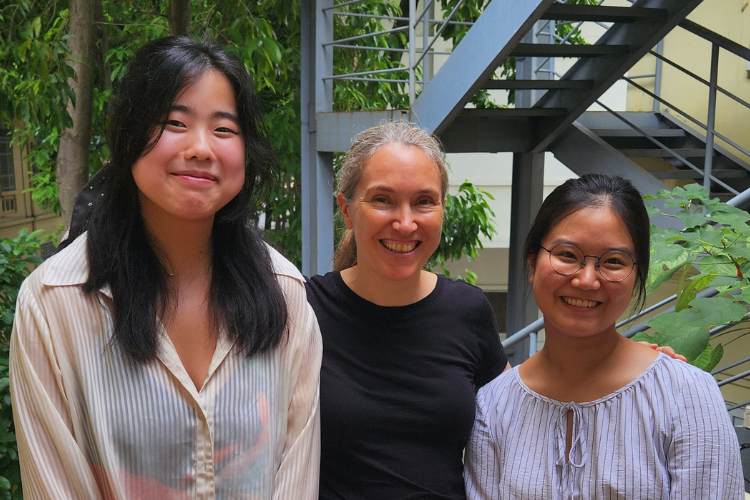 OUCRU intern Thia Bian '25, who is majoring in Comparative Literature and minoring in Global Health and Health Policy, underscored the importance of targeting research to marginalized and lower income populations, which tend to fall through the cracks. "When tackling antimicrobial resistance, we need to make sure that people not only have access to effective treatments, but that they are distributed equitably so AMR is not concentrated within one group," she stated.
Students also developed a stronger appreciation for the impact of their research. Psychology major Yonatan Ambrosio '24, who is minoring in Latino Studies and Latin American Studies, and Psychology major Zoe Mermin '25 were both impressed by TKI's focus on meaningful, tangible results. "Our mentors emphasized that research is not about writing papers that other academics will read," said Mermin. "It's about providing information that can be used to implement programs, collaborate with communities, and improve health outcomes."
Furthermore, students recognized the value of venturing into the field and embracing a multidisciplinary approach to public health issues. Joyce Mo '24, majoring in Chemical and Biological Engineering and minoring in Sustainable Energy, stressed the benefits of sharing best practices between countries and health care institutions. Chemistry major Yejin Bann '25 and Molecular Biology major Sean Park '24, both of whom are minoring in Global Health and Health Policy, highlighted the importance of diverse perspectives. "It was refreshing to see so many hard-working individuals with different backgrounds and so much great experience coming together to work on a common goal of happy, healthy kids," stated Park, referring to his internship at TKI. "It feels wonderful to be a part of that."
Bright Futures
Above all, participating students were inspired. The internships influenced their academic and professional pursuits while promoting personal growth.
Steve Lopez '24, a Neuroscience major who is minoring in Global Health and Health Policy, for example, affirmed his desire to become a physician. Sparked by his cultural roots and his grandmother's work as a pharmacist in Mexico, the first-generation student has nurtured a longstanding interest in medicine and studying health and health systems in different settings. Working at TKI cemented this passion and his goal of attending medical school while conveying that "research is an important part of being a doctor."
Other students, like Tiffany Deane '24, a Computer Science major, expanded their points of view. Deane was primarily focused on data science and graphic design until TKI opened her eyes to a health-related career.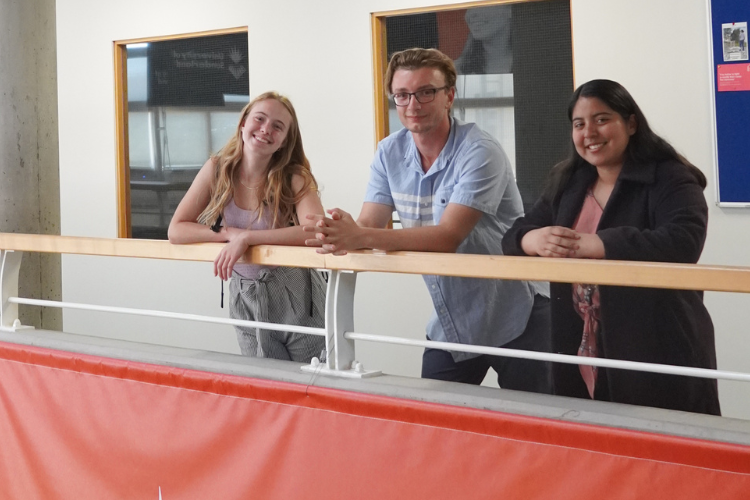 Whether they traveled across the world or across campus, students who have completed an internship in global health typically describe their experiences as pivotal and life-changing.
University of Sutherland intern Jenna Elliott '25, a Psychology major who is minoring in Neuroscience, traveled abroad for the first time. She acknowledged feelings of fear mixed with excitement as she left for England, and whenever she embarks upon an unfamiliar journey. "There's always that moment where you say, 'I don't know if I can do this,'" she described. "And then you kind of say, 'But I want to find out,' and you do it anyway."
"My internship at OUCRU not only made me more confident about pursuing a career in machine learning, and using technology for social impact, but also more confident in myself… as a traveler and as a responsible, independent person," added Mehra, who recently returned from Vietnam. "I could not have asked for a more fun, immersive, academically enriching, beautiful experience."
Summer 2024 Internships
Students can visit CHW's Global Health website for more information about the Internships in Global Health program. Details about Summer 2024 internship opportunities will be available in November.