Center for Global India hosts 'Cinema with Power' series with inaugural artist-in-residence, Prakash Jha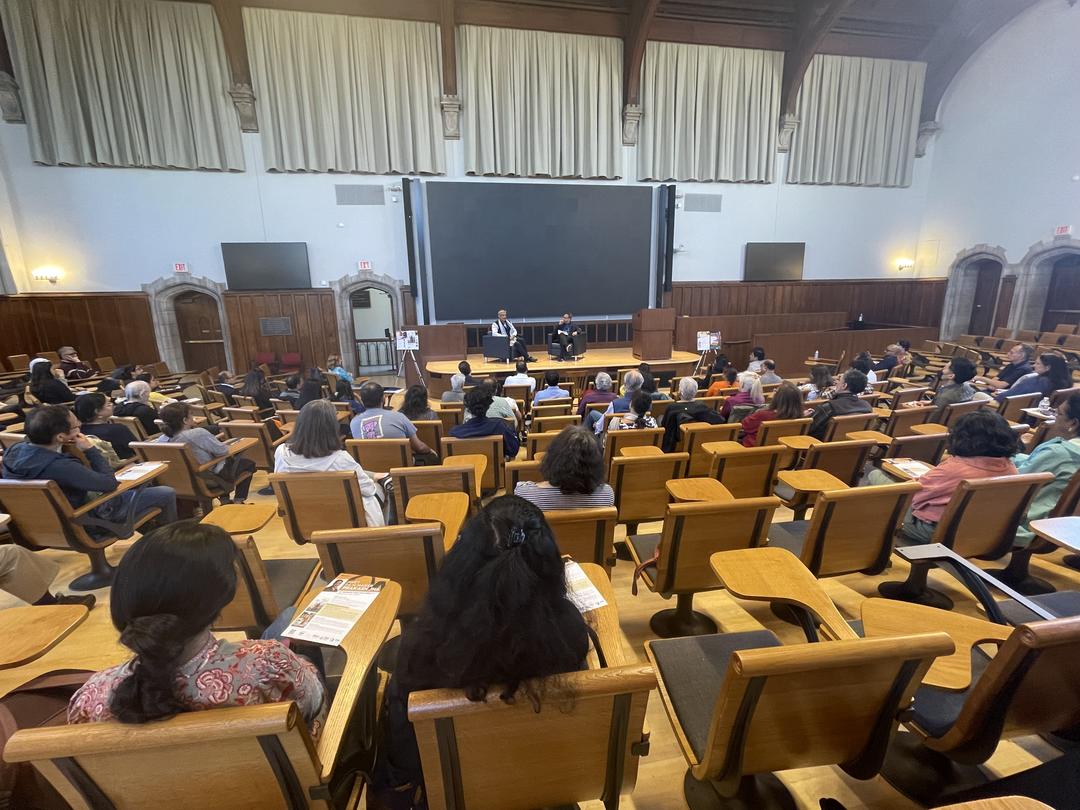 The M.S. Chadha Center for Global India (CGI) held "Cinema with Power," a series of events with Indian director, producer and screenwriter Prakash Jha from April 11 to 23, 2023. Jha is best known for his socially and politically relevant films like "Apaharan" (2005), "Aarakshan" (2011) and "Raajneeti" (2010). As CGI's inaugural artist-in-residence, Jha led filmmaking workshops for students, discussed movie making and social issues alongside Princeton faculty, and hosted screenings of his biggest hits for the Princeton community.
"Prakash Jha shared his art and creativity with the Princeton community and deeply engaged the Indian diaspora through public movie screenings," said Anu Ramaswami, the Sanjay Swani '87 Professor of India Studies; professor of civil and environmental engineering, the Princeton Institute for International and Regional Studies (PIIRS) and the High Meadows Environmental Institute. Ramaswami, who is also the director CGI, added: "His visit has stimulated much conversation on the complexities of social and political issues in India."
Nearly 100 Princetonian joined Jha at an opening reception on April 11. CGI screened two of Jha's award-winning documentaries, "Faces After the Storm" (1981), about the communal riots that took place in Bihar, India, in 1981, and "Sonal" (2001), about Bharatanatyam and Odissi dancer Sonal Mansingh.
Later that week, Jha led Princeton students, staff and faculty in a four-part, hands-on filmmaking workshop. "Planning a Film" covered inspiration, from historical events to literary works. In "Writing a Screenplay," students dissected scenes from Jha's movies. In "Shooting a Film" and "Editing a Film," Jha discussed aspects of shooting a film in preproduction, production and postproduction, such as location, cast, lighting, camera, editing, music, sound design, mixing and more.
Jha's first public event, on April 20 and held in partnership with Princeton Public Lectures, featured the filmmaker in conversation with Gyan Prakash, Dayton-Stockton Professor of History. "Social Justice, Power and Politics in India Cinema" mapped the trajectory of Jha's work and discussed how the largest film industry in the world, situated in the most populous nation, has represented socio-political issues over the years.
Prakash also moderated two film studies roundtables — "The Social Issue Film" and "What is Political Cinema Today?" — with scholars from New York University and Rutgers University. They discussed Jha's films in the overall context of Indian cinema. "Prakash Jha's visit contributed wonderfully to CGI's program, adding a stimulating humanities dimension to it," Prakash said. "I was delighted that he was so willing and interested in discussing how his cinema engaged with questions of politics and social inequality."
Jha's residency concluded with two screenings of award-winning films at the historic Princeton Garden Theatre on Nassau Street; both screenings were followed by a Q&A with Jha. On April 21, movie-lovers were treated to "Matto Ki Saikil" (2020), Jha's first movie as lead actor. Jha's portrayal as Matto — a daily-wage laborer who is attached to his bicycle, the economic lifeline for his family — was deeply moving. Steven Chung, associate professor of East Asian studies and acting chair for the Committee for Film Studies served as discussant.  He noted how unusual it was for a director to turn to acting. After the screening, audience members shared how the everyday life of Matto and his family was portrayed with empathy and left them feeling both his "hope and his despair." On April 28, the Garden Theatre screened "Rajneeti" (2010), a political thriller about the raw ambition of politics, based on the Indian epic, the Mahabharata.
While at Princeton, Jha also spent time engaging with other units at the University, including the Program in South Asian Studies, the Paul and Marcia Wythes Center on Contemporary China and the departments of music and politics. "Prakash Jha's visit to Princeton offered much to our campus community and was an enriching exploration of filmmaking in India," said Ellen Ambrosone, South Asian studies librarian. "It was a sheer delight to spend an afternoon giving him a tour of the library and sharing our South Asian collections, too."
"Apart from the formal events, I really enjoyed the more casual interactions, where we compared notes on the similarities and differences between the creative process involved in writing and filmmaking," said Akash Kapur, visiting lecturer in PIIRS. "I love the variety of people I get to meet at Princeton; Prakash is a prime example."
"Cinema with Power" was also supported by PIIRS, the Program in South Asian Studies, the Humanities Council and the University Center for Human Values.
Members of the Princeton community can view Prakash Jha's movies online at Princeton University Library (PU ID required):